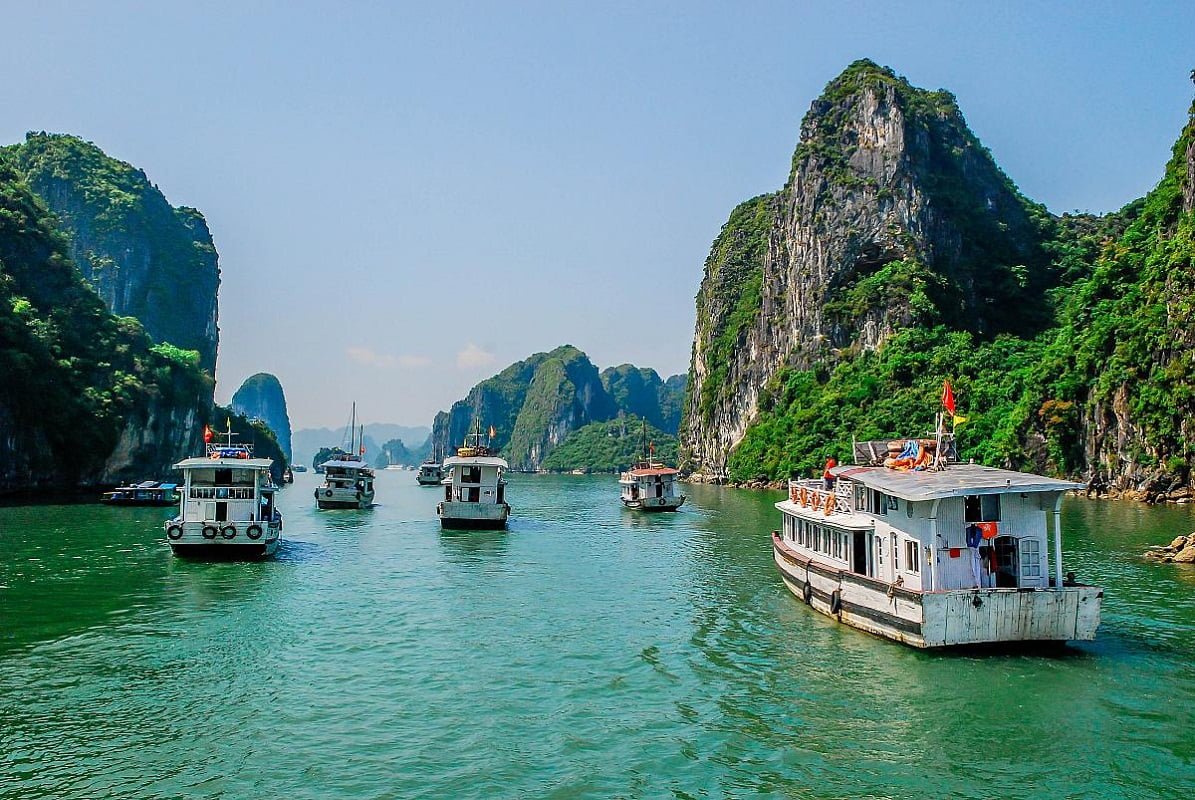 Summer is the best time for travel. Do you have a summer choice where to travel the most? Let's melt away the summer heat, push back the work pressure with the most exciting and exciting destinations this summer that Pu Luong Excursion shares through the following article.
Best places to visit in summer in Vietnam
The ideal summer tourist destination is always the topic that people are most interested in when summer comes. Let's explore together with Pu Luong Excursion the list of ideal summer travel destinations most suitable for friends and family!
Hanoi
Summer in Hanoi can be said to be quite hot. The hot and dry sun seemed to make people just feel uncomfortable. However, summer is the time when Hanoi attracts a lot of domestic and foreign tourists. The reason is that summer in Hanoi is very busy and bustling. Summer vacation makes many people take a break and shopping and entertainment activities take place very crowded.
Summer is also the season of many colorful flowers in Hanoi, the season of green nuggets like pearls, the season of golden sunshine, honey and fresh rains. Therefore, summer is really a very suitable time for tourists to discover a dreamy and lyrical Hanoi.
Ninh Binh
Around April – May, Ninh Binh's weather is considered to be quite ideal, and pleasant, as the transition between spring and summer. By May, June is the lotus season, the ripening rice season in Tam Coc makes the whole Ninh Binh sink in golden color, especially if you can witness this scene with your own eyes when standing from the Dance Cave, you can see all the colors of Ninh Binh summer. 
Ha Long Bay
Ha Long Bay in Quang Ninh is surrounded by large and small islands. The beauty of Ha Long is likened to an ink painting, with many islands and natural caves formed by very unique sedimentary layers.
If coming to Ha Long in the summer, visitors can experience discovering the mysterious beauty of Ha Long Bay most conveniently.
Sa Pa
Sa Pa is a province in the Northwest high mountain region, with a mild and cool climate all year round. As one of the 5 must-visit cities to travel and experience in Vietnam.
Referring to Sapa, people immediately think of extremely unique and beautiful terraced fields. Tourists from all over the world fall in love with the beauty of Sa Pa partly because of the novelty and impression of this terraced field.
Traveling to Sa Pa on a sunny day, visitors can enjoy the fog in the early morning, a little warmth in the afternoon, a little sunshine in the afternoon and a little chill in the late evening. Besides, the trips to learn and discover the simple daily life and unique culture of the indigenous people here will make visitors love this land more.
Sapa is beautiful all year round, but the most convenient way to visit Sapa is in the summer. Let's go and experience the rare beauty of Sapa right away before you miss the summer.
Hoi An
Hoi An is an attractive summer destination not inferior to anywhere else. The nostalgic and romantic nature of Hoi An makes everyone who comes to it also dumbfounded, immersed in forgetting the way home.
Stopping in Hoi An, visitors don't forget to experience cycling around the old town, visit the old traditional craft villages such as Tra Que vegetable village, Thanh Ha pottery village, Thanh Nam fishing village, etc, visit Cua Dai beach, canoeing through thousands of waves to reach Cu Lao Cham.
Mui Ne
Traveling to Mui Ne in the summer is always the choice of many tourists. Because Mui Ne in the summer is very beautiful, it does not rain, although it is sunny, it is not too hot because the sea breeze blows all year round. Along with entertainment services such as Mui Ne Jeep tour, enjoying seafood, etc.
Mekong Delta
If you want to have a new travel experience, the Mekong River cruise is not a bad experience. You can go by boat, visit tourist areas on the Mekong River, etc.
A cruise on the Mekong River is a safe, convenient and very pleasant way to explore the region. This is considered one of the travel trends of 2023.
River cruises serve visitors daily, including walking into villages, visiting temples and participating in hands-on experiences of local traditional crafts. The main means of transport are: bus and tuk-tuk, so that visitors can experience up close the rural life along the Mekong tributaries.
Phu Quoc
If you are looking for a sunny and windy destination with endless green beaches and lush forests, then Phu Quoc Island is the best suggestion.
Phu Quoc pearl island has a wild and modern beauty like Hawaii. There are also famous landmarks and historical relics of the nation such as Con Dao prison waiting for visitors to discover.
Visiting Phu Quoc this summer, visitors will be immersed in the cool sea water, experience diving to see colorful corals. Moreover, coming to Phu Quoc without enjoying specialties is a huge omission: Phu Quoc fish sauce, sim wine … Your trip to Phu Quoc will be much more meaningful when visiting fishing villages, water barrel houses. fish sauce, green pepper garden…
Festivals in Vietnam in summer
Vietnam is a country which has many traditional festivals. We will introduce to you some interesting festivals that are held in the summer. 
Annual Southern Fruit Festival
The Southern Fruit Festival is held annually at the campus of Suoi Tien Cultural Tourist Area (District 9, Ho Chi Minh City) – a place that is inherently busy and crowded, especially in the summer time like this. The festival has a large scale, with many activities that the central subject is the sweet and fragrant fruits from all over the country. Visitors here can visit, take photos, learn more about fruits, participate in folk games and buy fruits as gifts for family and friends.
This is also an opportunity for gardeners to introduce the best quality fruits to everyone, and at the same time, a stage to show off the skillful fruit-shaped and pruning skills of the artisan with hundreds of colorful works. colorful and very delicate.
Lang Co Festival
Read more:Pu luong day trip
Located about 70 km south of Hue City, Lang Co (Lang Co town, Phu Loc district) is one of the bays with natural conditions and the most beautiful scenery in Vietnam, which is likened to a "fairy land" of the central coastal strip. With an area of 42 km2, the beach is more than 10 km long, fine white sand, clear blue water, Lang Co Bay fully converges favorable conditions to develop many types of tourism such as beach resort, ecotourism lagoon, marine sports.
In addition, Lang Co is also on the journey "Central Heritage Road", focusing on 4 world heritages recognized by UNESCO including: Complex of Hue Monuments, Phong Nha – Ke Bang National Park (Quang Binh), Hoi An Ancient Town and My Son Temple (Quang Nam). Lang Co is now becoming an attractive destination for tourists.
Festival of singing and dancing in the central provinces and the Hauts plateau
The National Tourism Year Program South Central Coast – Phu Yen, aims to promote the cultural heritages and tourism potentials of the provinces in the region. At the same time, it is also an opportunity for professional art units and artists to exchange, learn and experience art creation.
Vietnam weather in summer
Summer in the North
In summer, the air becomes dry, hot, and sweltering. The highest temperature is in June and July with high temperatures and bright sunshine. The number of sunny hours in a day is also longer.
Summer weather in Central Vietnam
The Central region is the region with the harshest and harshest summers. However, due to its location near the sea, the climate is markedly tropical. In addition, central Vietnam is also affected by the Lao wind, so there are times when the air becomes dry, hot and uncomfortable.
Summer weather in the South
Unlike the North, the South of our country has a climate divided into two distinct seasons: the rainy season and the dry season. In the dry season, the average temperature here is high and sunny, but the air is not too hot and harsh like the North. The climate is pleasant and has a higher degree of stability.
Should I book a family tour in the summer at a travel agency?
In recent years, more and more Vietnamese & foreign travel agencies, travel agencies have appeared, and at the same time, tourism products and services have become more diverse and attractive, suitable for more customers. When buying a tour, you need to keep the following in mind so that you don't have to face situations such as poor quality of service, too many expenses incurred during the trip or even being abandoned in a foreign land:
Paying attention to the brand of Vietnam & International travel company

Understand the entire tour program

Pay attention to what the tour price includes

Know the terms of deposit and tour cancellation from Vietnam & Foreign travel agencies
I'd like to suggest you refer to to have many choices for tour and get conscientious support. 
Read more: Pu Luong Nature Reserve