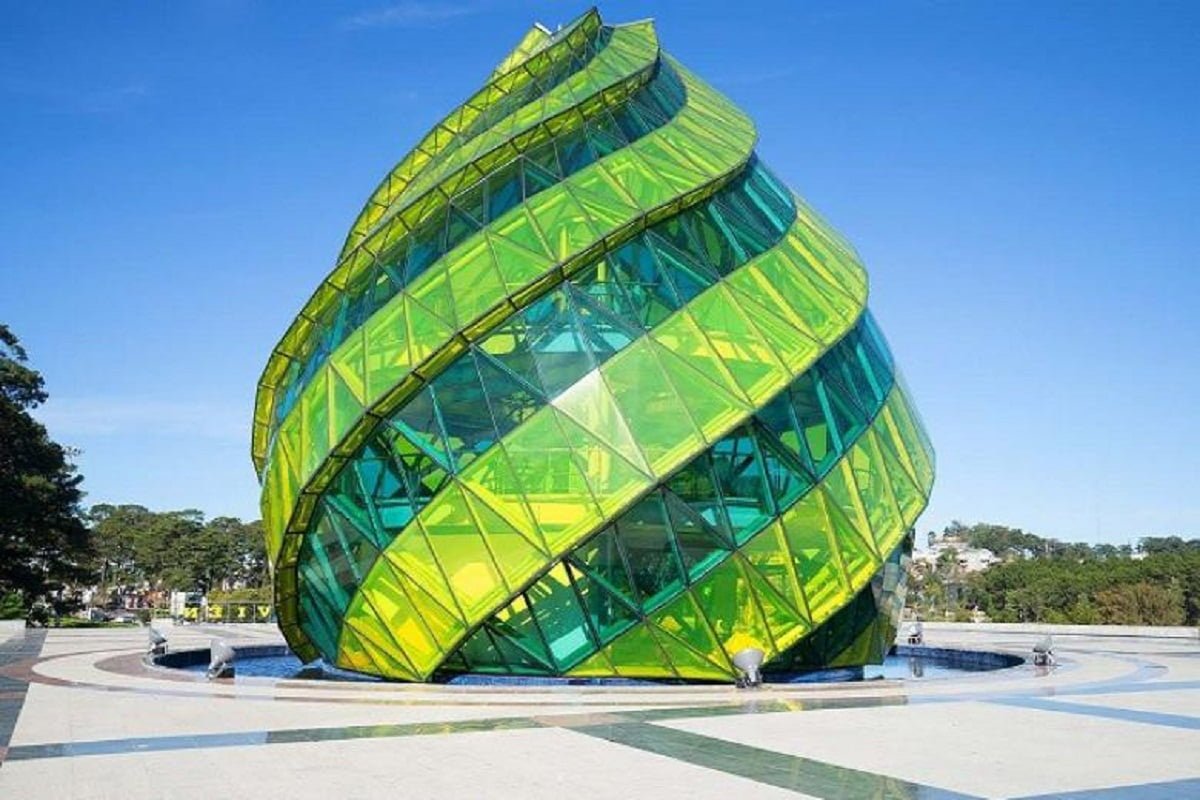 Favored by nature with a cool, pleasant year-round climate, this beautiful plateau  city is always an ideal tourist and resort destination for millions of visitors every year. If you are planning a backpacking trip to Dalat, the article about Dalat travel experiences below will give you some suggestions to prepare well for the upcoming trip.
What do we know about this destination- Da Lat?
 Da Lat is a city directly under Lam Dong province, located on the Lam Vien plateau, in the Central Highlands region of Vietnam.
With an altitude of 1,500 meters above sea level and surrounded by mountain ranges and forest flora, Da Lat inherits a mild and cool mountainous climate all year round. The history of more than a century has also left the city a valuable architectural heritage, likened to a museum of European architecture in the twentieth century. The rich natural and human resources make Da Lat one of the famous tourist destinations of Vietnam, attracting millions of tourists every year to visit and relax.
See more: Pu Luong Nature Reserve
What is the best time to go to Dalat?
According to our Dalat travel experience, this is one of the places you can visit anytime. Located on the plateau, Da Lat's climate is always maintained at 20 degrees Celsius, cool all year round. Of course, the city is still divided into two seasons, rainy and sunny, but each season, each time, Da Lat has its own beauty.
Winter- Spring
The best time to visit Da Lat is in late autumn, or early winter, and lasts through spring, because the city is in the dry season, so you can enjoy your trip. From the end of October, the weather in Da Lat starts to get cold, preparing for winter. This is also the time when Da Lat can put on a brilliant coat of all kinds of brilliant flowers such as white mustard flowers (October – December), pink grass flowers (November – December), and wild sunflowers (November – January).
Especially, the end of December is when the city is most crowded when coming to the Dalat Flower Festival, which is held every 2 years. During the five days of the festival, colorful flowers covered every street, attracting thousands of visitors to have fun. Please note this note in our Dalat travel guide.
Da Lat Flower Festival 2022 will be held from Tuesday (November 1, 2022) to Saturday (December 31, 2022). So if you travel to Dalat during this time, you will have the opportunity to admire the largest flower festival in Vietnam.
See more: Pu luong day trip
In the spring, which is about January – March, the streets of Da Lat are dyed romantic pink thanks to the rows of cherry apricot trees on both sides of the road. A little later, around February – April, is the time of purple phoenix, dandelion, or lavender in bloom. At this time, there is nothing more ideal for couples who are looking to spend a honeymoon trip together. Surely you will get great pictures, no less than a temperate country.
Summer
Summer in Da Lat starts from about May to October. Early summer, around April to May, is the season when sunflowers bloom brightly in the flower fields of Da Lat. If you love this radiant flower, don't forget to open the Dalat travel guide and plan a trip to Dalat at this time.
Summer is also the rainy season of Da Lat, especially from July to September there will be drizzling and constant drizzle. Those who love romance and poetry, sitting and sipping a cup of coffee and watching the city seem to be engulfed in dew, it is easy to make people fall in love.
How to get to Da Lat?
Moving to Da Lat is quite convenient, even if you are in the North Central South, you can easily choose to go to Da Lat by air or by bus.
Plane
According to self-sufficient travel experience in Da Lat, to save time traveling to Da Lat, the air is the best choice. From big cities like Hanoi, Ho Chi Minh City, Da Nang, Can Tho, Nha Trang, Hue, Phu Quoc, etc, most of them have flights airlines to Da Lat. Because Lien Khuong airport is far from the city center. Da Lat is about 34 km, so when you get from the airport you have to call a car to go back to Dalat. To avoid the situation of having no car or waiting for a car for too long, the taxi fare is expensive, you can book a private car booking service from Lien Khuong airport to Da Lat. From only 242,000 VND/4 people, 297,000 VND/6 people, and 825,000 VND/15 people, you can move conveniently and quickly to the center so you don't have to be late for your fun schedule.
Coach
If going from Ho Chi Minh City, the most popular option to travel to Da Lat is by bus. There are many car companies that provide coaches to Da Lat with all kinds of cars from beds, to seats. The price ranges from 150,000 to 350,000 VND (depending on seating position) / way. Running time is about 6 – 9 hours.
If you want comfort, then a VIP limousine is the choice not to be missed in your journey! With a comfortable bed, you don't have to worry about being "sluggish" after arriving in Da Lat, you can also guarantee a reservation and a round trip price of about 640,000 VND.
Backpacking
With the breathtaking beauty of the mountains and forests of the Central Highlands, Prenn Pass is always a road that attracts adventurers to conquer when traveling to Da Lat. However, you have to prepare a lot of things in advance to have a complete trip to Dalat. Please refer to the Da Lat travel guide from the "travelers" who have gone before to have more experience conquering this famous Dalat road.
See more hanoi to pu luong bus
Best places to see in Dalat
Datanla Dalat Waterfall – A dreamy Dalat tourist destination
This is a very popular Da Lat entertainment place, located right in the heart of the dream city. Coming to Datanla waterfall, visitors can not only admire the poetic beauty. Visitors can also immerse themselves in heaven and earth thanks to the slide system. This is the longest slide system through the jungle in Southeast Asia and many other exciting adventure games.
Langbiang Mountain Dalat
Langbiang Mountain is often compared to the heart of Da Lat by locals. Because of its majestic height and poetic mountain scenery. Langbiang Mountain is a famous Dalat discovery site for climbing and picnicking to explore nature. Langbiang Mountain is also home to many rare species of birds, animals and plants. As a result, this Da Lat amusement park attracts a large number of backpackers and young people who are passionate about adventure, checking in and taking photos.
ZooDoo Zoo – a family fun place in Da Lat
This is an emerging Da Lat entertainment place in recent times with a "2 in 1" model including a cafe combined with a unique zoo farm. The main house of the zoo is very quiet and poetic because it is surrounded by a fresh pine forest. In this area, guests will be served delicious drinks. Affordable price to relax and enjoy the view while waiting to visit the zoo.
XQ Da Lat History Shop
XQ Su Quan is an interesting place to discover Da Lat. The location is located in the heart of the dream city and next to the Valley of Love. XQ Su Qua owns unique architecture and impressive beauty, so it is loved by many tourists and often visits.
Bali Green Hills Heaven Gate
When visiting Robin Hill, don't forget to visit Bali Green Hills Heaven Gate located inside Greenland 2 resort! This is one of the entertainment places in Da Lat that is very popular with young people because of the sky gates located between the vast pine forests and majestic mountains.