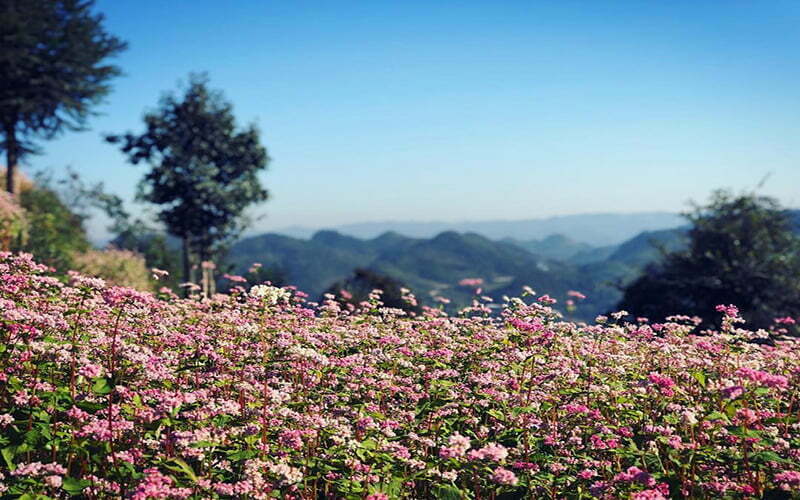 The weather in Vietnam is divided into four distinct seasons: spring, summer, autumn and winter. Each season has its own characteristics and beauties, let's find out what visitors will experience when coming to Vietnam in the spring with Pu Luong Excursion.
1. Vietnam weather in spring
Spring is considered as the most beautiful season of the year in Vietnam. Based on the change of weather, spring in Vietnam starts from January to the end of March. The spring climate is relatively cool and comfortable with the temperature in the range of 20 to 22 degrees Celsius. Spring is also the season when many big festivals are held, an opportunity for tourists to have fun as well as to wish for a peaceful and lucky new year.
See more: Pu Luong – Unlock Nature Beauty
2. Top activities to do in spring in Vietnam
2.1 Spring – The season of peach blossoms, plum blossoms
Spring is the season of flowers blooming and everywhere are beautiful and brilliant colors of flowers. In particular, this is the only season of peach and plum blossoms in the year. Therefore, coming to Vietnam in the spring, you can admire the magical beauty of these two flowers. Not only Japan and Korea have peach blossoms, but also in Vietnam, we also have countless beautiful and shimmering peach flowers such as: Nhat Tan red peach blossom, Moc Chau plum blossom, Da Lat cherry apricot blossom or white forest peach blossom in Sapa.
2.2 Lunar New Year and Traditional Spring Festivals        
Lunar New Year        
Lunar New Year is the most important holiday of the year for Vietnamese, which is counted at the beginning of the lunar year. The Lunar New Year is considered a time to show the interference between heaven and earth, gods and humans. This holiday, everyone in the family will return home to reunite, worship their ancestors and wish for a lucky, happy and successful new year.
Huong Pagoda Festival        
The Huong Pagoda Festival is one of the major festivals in Vietnam, attracting a lot of tourists every year. The ceremony took place at the scenic area of Huong Pagoda (also known as Huong Son) – a complex of religion and culture. It is not only known as a spring travel festival, but the Huong Pagoda Festival is also imbued with the cultural beauty and beliefs of the Northern people. Coming here, visitors can admire the natural beauty of Huong pagoda and feel the solidarity between the ethnic groups of Vietnam.
Lim Festival        
The Lim festival is one of the famous traditional festivals of Bac Ninh. This festival is usually held in Tien Du district, Bac Ninh province from the 9th to 14th of the first lunar month. Coming here, visitors will have the opportunity to enjoy a variety of folk activities such as Cheo singing, Ca Tru, Tuong singing, Quan Ho singing and New Year's blessing ceremonies.        
Anniversary of the death of the Hung kings
Anniversary of the death of the Hung Kings is the most specific expression of the Hung Kings Worship Belief, demonstrating the community's cohesion of Vietnamese – common origin. The festival is held with solemn rituals and folklore activities such as: Traditional procession, Xoan singing, Giay pounding contest and Chung cake wrapping contest.
Ba Den Mountain Festival        
Ba Den Mountain Spring Festival is held on the 4th – 16th of the first lunar month every year at Ba Den Mountain – a historical, cultural, scenic and tourist site. The festival expresses the deep national identity and conveys the people's wishes for a prosperous life. Coming to Ba Den Mountain Spring Festival, you can choose one of two forms: walking or going by slings.
2.3 Spring seaside break in Vietnam – Why not?
Besides the unique traditional festival, you can also try choosing a seaside break in spring Vietnam. With nearly 3,500km of coastline, Vietnam boasts a variety of beautiful beaches for visitors to experience:
Nha Trang beach with a length of nearly 10km and immense natural scenery.

Sam Son beach with fresh air, clean sea water and murmuring waves.

Phu Quoc – the beautiful island in Kien Giang province owns hundreds of large and small bays,  islands and many beautiful beaches.

Cua Lo beach with blue sea, white sand and festivals, fireworks shows that bring many surprises to visitors.
3. The dishes to taste in spring in Vietnam
3.1 Banh chung (glutinous rice cake)
Banh Chung is an indispensable dish in the new year in Vietnam. Before Tet holiday, Vietnamese families have the custom of wrapping Banh Chung as maintaining a long-standing traditional cultural beauty. Banh Chung in the Tet is meant to express gratitude to the heavens and the earth for the favorable rain and wind, so that the crops are abundant, bringing a prosperous life to the people.        
3.2 Bun thang (vermicelli in chicken broth)
For a long time, Hanoi Bun thang has always been considered as the most delicate and elegant gift in the culinary quintessence of the local people. To make this dish requires up to 20 different ingredients and the meticulousness of the cook.
3.3 Bun oc (snail vermicelli)
Bun oc is a rustic dish, originating from Vietnamese fields. Bun oc is a typical dish of Hanoi because of its sophistication and wonderful taste. There are many different types of Bun oc such as cold Bun oc, Bun oc with beef-crab, banana bean Bun oc, greaves Bun oc, etc.
3.4 Bun rieu (crab paste vermicelli soup)
Bun rieu, like most other vermicelli dishes, originates from the Northern region. This is a rustic dish that has evolved into a dish that requires cooking techniques, patience in making broth and combining ingredients.
In conclusion, coming to Vietnam in spring has many great things like that. So, do not have a heritage and quickly arrange time to come here to experience. We are always here to help you have a wonderful trip.