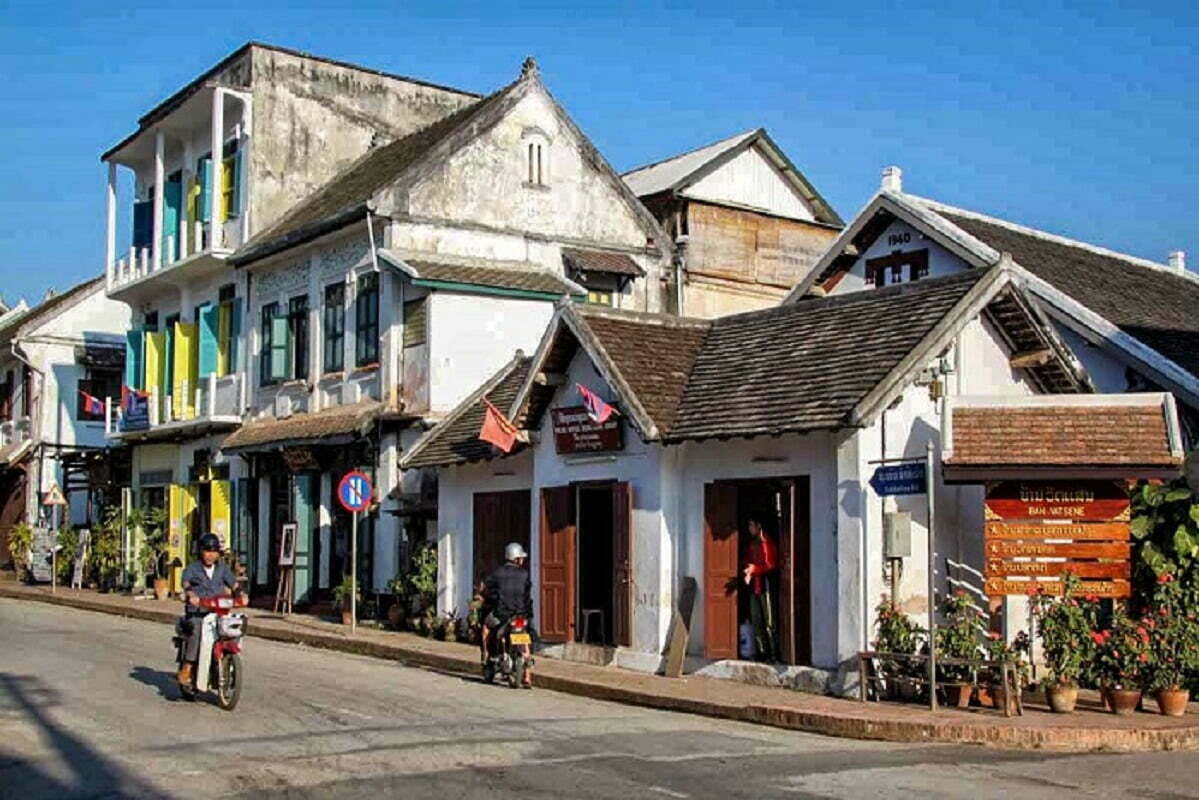 Those who love Laos tourism probably cannot help but know Luang Prabang (Luang Prabang). The ancient capital of Luang Prabang of Laos has been recognized by UNESCO as a cultural heritage of humanity… The best preserved today. Therefore, tourism to Luang Prabang attracts world tourists by its peaceful, simple and ancient beauty.
Introduction of Luang Prabang
Luang Prabang – A famous heritage city, located in the North of Laos. This was once the ancient capital of the Lang Xang Kingdom lasting from the 13th to the 16th centuries. It "owns" many ancient relics and architectural works. Therefore, in 1995, the city was recognized by UNESCO as a World Heritage Site for architecture, religion, and culture.
What time of the year should you travel to Luang Prabang?
Luang Prabang is located in Northern Laos and has a climate quite similar to Northern Vietnam. Therefore, we can travel to Luang Prabang at any time and find it pleasant. However, in the autumn (from August to October every year) the climate is very cool for visitors to comfortably walk around and take beautiful pictures.
How to get to Luang Prabang
There are two most easy ways to get to Luang Prabang which are by plane and by bus:
Go by plane
In our country, there are quite a few airlines providing flight services to Laos. Such as Vietnam Airlines, Lao Airlines, Jetstar or Qatar Airways, etc. Airfares to Laos range from VND 6 million to VND 9 million. In addition, you can save more money if you can book cheap tickets.
Go by bus
If visitors want to experience moving to Luang Prabang by road, Pu Luong Excursion can also help you to arrange the most suitable bus.
Accommodation in Luang Prabang
Belmond La Résidence Phou Vao
Perched on top of Phou Vao hill, looking through sacred mountains, Belmond La Résidence Phou Vao is an unforgettable place to stay. With a reputation as one of the quietest hotels in Luang Prabang, Belmond La Résidence Phou Vao is a veritable resort paradise.
Avani + Luang Prabang Hotel
Avani + Luang Prabang Hotel is centrally located in Luang Prabang and only about a 15-minute drive from Luang Prabang International Airport, just south of the Mekong River, the resort offers easy access to dozens of temples dotted with garbage in the area between the Nam Khan and Mekong rivers.
Read more:Pu luong day trip
The Luang Say Residence
The 5-star The Luang Say Residence is set within 14,000 square meters of lush green gardens and offers great views of the surrounding mountains and is located just ten minutes from Luang Prabang Airport.
Where to go in Luang Prabang?
Luang Prabang tourist city is about 425km from Vientiane, Laos. To the north and in the Upper Laos mountains. It is about 300m above sea level. Located in the valley of primeval mountains. Therefore, Luang Prabang attracts tourists not only by possessing many ancient architectural works but also by the wild beauty of nature. When coming here, visitors should visit the following places to feel the beauty of a world heritage site:
Luang Prabang Old Quarter
This place has many similarities with Hoi An ancient town of Vietnam. Walking around the old town of Luang Prabang, you will see ancient houses bearing the stamp of time. The streets here are very busy, but there are almost no sirens and always clean. In the old town, you will find many beautiful small shops selling souvenirs to choose from to buy for relatives and friends.
Temple of Xieng Thong
Xieng Thong Wat is located at the confluence of the Nam Khan and Mekong rivers. This is the most important ancient temple in the ancient capital of Luang Prabang. Currently, the pagoda is a place to preserve many ancient relics, religious spirits, and traditional Lao art. The name Wat Xieng Thong means temple of the golden city.
Xieng Thong Wat is a place of pilgrimage and worship for many local residents and tourists from all over the world. This temple plays an increasingly important role in life, and spiritual culture, a quiet place in the middle of a bustling and prosperous city.
Kuang Si Waterfall
It is located only 30km from the center of Luang Prabang. Visitors can easily rent a motorbike or a bus to come to see the beauty of the majestic Kuang Si waterfall and enjoy the fresh air of the green mountains.
Experience the morning alms-giving ceremony extremely interesting. The morning almsgiving activity of the monks is a unique culture of Luang Prabang. The alms round begins at 5:30 a.m. daily. Note that when visitors participate, they should be well-dressed.
Pak Ou Cave
The mystery and sacredness of Pak Ou cave, famous for its thousands of Buddha statues, is making a spiritual and attractive destination not only for Buddhist followers but also for people in the country of Million Elephants. this beautiful. Thousands of Buddha statues in Pak Ou cave are made from many different materials of different sizes always associated with interesting historical stories. Because of that, exploring Pak Ou cave in Laos becomes even more attractive.
Read more: Pu Luong Nature Reserve