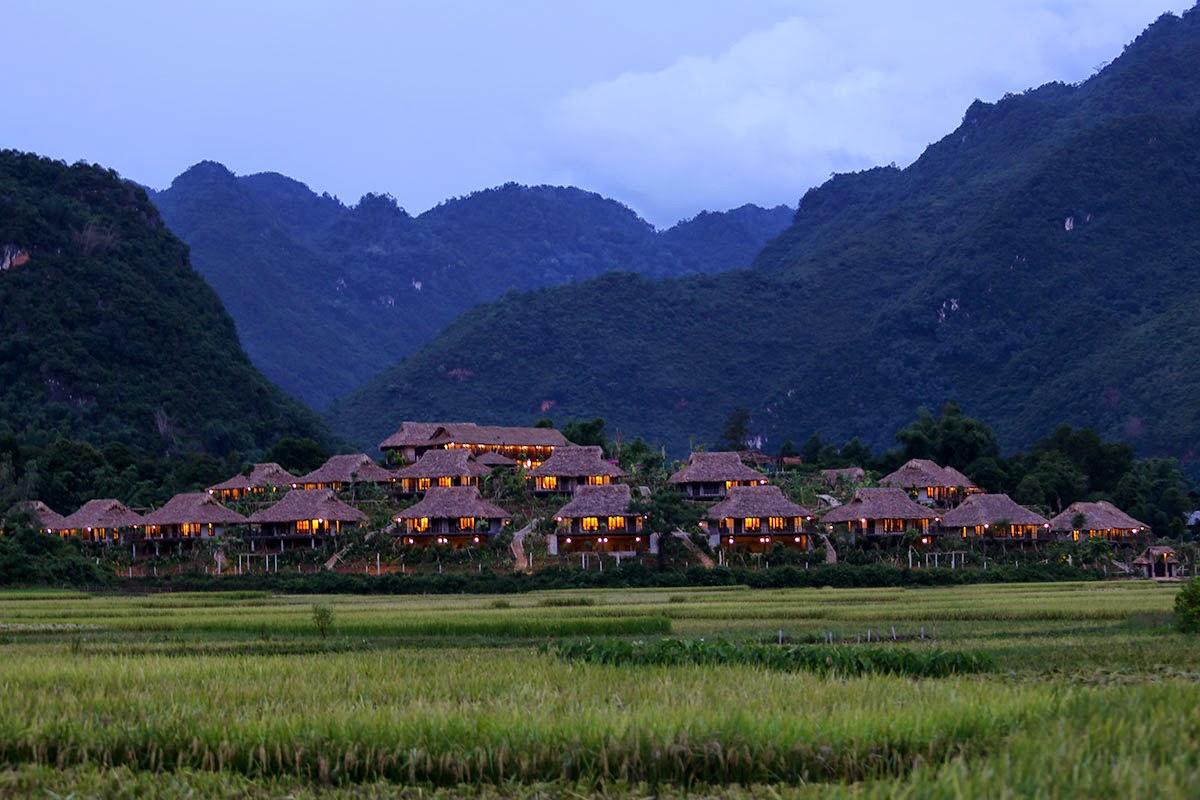 Located in the northwest of Hoa Binh province, Mai Chau is a land of convergence and exchange of many ethnic groups. With the specific geographical features and existing cultural traditions, the people of Mai Chau valley Vietnam have been promoting, preserving the national cultural identity and promoting the tourism potential.
Mai Chau travel maps
If you love to explore new lands with nature, beauty and peace. You should not miss traveling to Mai Chau valley Vietnam with countless attractive places. In addition, when coming to Mai Chau, you also have the opportunity to enjoy attractive specialties and learn about the life of the local people. Take a look at the Mai Chau travel map right away to find out the tourist attractions and tourist activities here.                
See an amazing list of top 10 things to do in Mai Chau, Vietnam
1.Take a panorama picture of Mai Chau valley at the flagpole
It is such a pity when going to Mai Chau without checking in the Mai Chau flagpole. The flagpole is located at Tong Dau, Mai Chau, right after coming out of Thung Khe pass. From here you can zoom your eyes to admire the whole Mai Chau hidden under the white mist. Whether early morning or sunset, the scenery here still brings a gentle beauty for visitors to fully feel the beauty of this place.
2.Check out a local market in Mai Chau area
With traditional cultural and unique features of the Northwest market, the Mai Chau local market has just been reopened in Mai Chau town. The market here sells a full range of specialties, handicrafts to meet the needs of exchanges, learn about indigenous culture, and is a factor contributing to the development of Mai Chau valley tourism.                        
3.Conquer Afternoon cave with over 1200 steps
Afternoon cave is one of the most mysterious and attractive caves in Mai Chau valley. To reach the shop, visitors will pass more than 1200 stone steps. Along the two sides of the road are rows of tall green Xa Pung trees. Afternoon Cave is famous for its stalactites, especially when the sun shines through the openings to enter the cave. The wonderful scenery inside the cave and the natural scenery of Mai Chau valley will bring you many surprises.        
4.Joining farming works with locals                
Lac village is located in a lovely valley in Chieng Chau commune, Mai Chau, Hoa Binh. Surrounding the village are towering hills with simple traditional stilt houses nestled in the middle of the space. Visitors from all over the world come here to learn and discover the unique culture of the Thai ethnic group. Especially in autumn time, visitors can experience the life of local people by joining farming works.        
5.Taking a cooking class and feast on your DIY lunch
Mai Chau Hoa Binh is not only famous for its unspoiled and gentle beauty, but also remembered by tourists for its delicious specialties. To increase the culinary experience for visitors, some hotels and resorts of Mai Chau organize basic cooking classes. Typically like Mai Chau Ecolodge, visitors who sign up for a cooking class will directly select ingredients, cook and enjoy their DIY lunch.                        
6.Having fun with bamboo rafting on a local stream        
Visitors to Mai Chau can have fun with bamboo rafting on a local stream. This is the first choice of tourists who love water activities and river views. Along with kayaking, rafting in the early morning sunshine, visitors will be completely immersed in the peace and quiet that is different from the noisy city.        
7.Sleep on a bamboo floor a Thai homestay in Lac 2 village
House on stilts is the most popular type of accommodation in Mai Chau that you should experience. Lac village, Mai Chau is a tourist destination so the service here is quite developed. The hotels and homestays here are designed in the style of traditional Thai stilt houses with mainly bamboo building materials, which will give visitors the most authentic experience.
8.Go on a walking or cycling tour around the Mai Chau area
If you want to admire the village's beauty, learn about the customs and living habits of the indigenous people, going on a walking or cycling tour around the Mai Chau area is the best. Come to Mai Chau to leisurely cycle around the village, you will enjoy the peaceful scenery, shop for the craft goods and climb the high rocky slopes.                        
9.Watch traditional Thai dance and drink Can wine in the evening
After visiting, experiencing, discovering nature and the daily life of the people, visitors will be able to see and immerse themselves in the traditional Thai dance. Mai Chau "Xoe" dance has its own unique beauty and distinct local character. In particular, in the evening after the performance, visitors can also try Can wine, a cultural symbol of mountainous ethnic groups.
10.Taking a boat ride in Hoa Binh lake
Taking a boat ride in Hoa Binh lake is also one of the favorite activities in Mai Chau valley. The main means to explore the lake is SUP – a popular sport activity. You do not need to know how to swim or have experience, so it is suitable for many ages. This will be a new travel experience, letting you relax with the fresh natural atmosphere and freely explore new views.        
Must see: Pu Luong Mai Chau tour
Things to do around Mai Chau                        
Check out Pa Co Sunday market        
Pa Co market is only open every Sunday morning each week. Early in the morning when the fog was still covering the sky, the H'Mong people in Mai Chau highland went to the market. Although it only takes place once a week, the market is always busy and crowded like a local festival. Pa Co market sells all kinds of items that can make visitors overwhelmed by a variety of products from farms, livestock and fabrics or brocade. Visitors can come here to visit as well as buy souvenirs for friends and relatives.                        
Day trip to Pu Luong Nature Reserve                        
Pu Luong Nature Reserve is a land with unspoiled beauty of primeval forests, terraced fields and traditional Thai stilt houses. Here, visitors can visit many places such as:
Don village with unique architecture on stilts, roofs made of palm leaves typical of traditional Thai stilt house culture.

Kho Muong cave – the valley deep in Pu Luong Nature Reserve still retains its wild character.

Son – Ba – Muoi is one of the three highland villages of Lung Cao commune, which is known as "Mini Sapa of Thanh Hoa".

Kho Muong cave with towering limestone blocks millions of years old and diverse types of rare forest birds.

Pu Luong Peak – a great experience for trekking enthusiasts.
Exploring unlocked beauty of Pu Luong Nature Reserve
Mai Hich village, Mai Chau                        
Mai Hich is a commune located in Mai Chau district, Hoa Binh province, which has only been invested in development and promoted as a community tourism destination. This place is making beautiful impressions in the hearts of tourists with its nature, fresh air, pristine beauty and the daily life of the people in the village.        
These are great travel experiences in Mai Chau, if you need any further assistance, don't hesitate to contact us. We will be very pleased to support you.