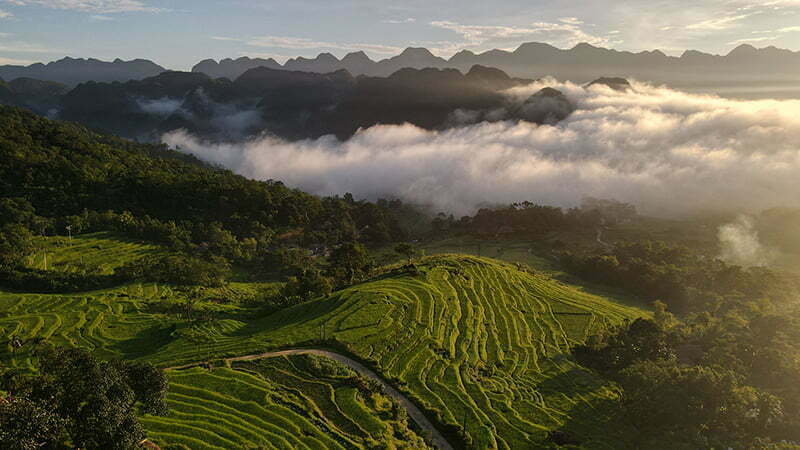 Pu Luong, Thanh Hoa is a famous attraction for backpackers especially Pu Luong for nature lovers. Most of the tourists coming here are strongly impressed with the scenery and wild beauty of Pu Luong, especially the terraced rice fields and primeval forests. Pu Luong Nature Reserve was established in 1999 with an area of 17,662 hectares, including 13,320 hectares of strict protection zone and 4,343 hectares of ecological restoration zone.
One glance at the Pu Luong Nature Reserve and you'll see why the ethnic Thai people made this enchanting valley their home long ago. The slow pace in Pu Luong is a striking contrast to life in the capital just a few hours away. Endless mountains, fertile valleys and pristine jungle are just a few good reasons to visit. Here are seven ways to make the most of your time in this beautiful destination.        
Take a swim in Hieu Waterfall
Hieu waterfall is located in Pu Luong Nature Reserve, Co Lung commune, Ba Thuoc district. Surrounded by a large primeval forest, Hieu waterfall has fresh air and a pleasant climate all year round. This is an ideal place for tourists to get away from the dust and noise of the city to find relaxation, re-energizing and breathing fresh air by the murmuring waterfall flowing day and night.
Every season of the year, visitors can come to Hieu waterfall to admire its beauty. In the summer, the water is clear, cool, and warm in the winter. In the rainy season, the waterfall flows, roars and turns into a strange opaque white color.
Hieu waterfall, Pu Luong has a length of about 800 m with a natural swimming pool, just over 1 m deep, outside the foot of the waterfall. Coming here, visitors can freely wade through waterfalls, cool off, soak in the spring and admire the majestic mountain scenery around.
Pay a visit to an ethnic Thai Village
Pu Luong is home to the Muong and Thai people, mostly Black Thai – one of the largest ethnic minorities in Vietnam. There are a total of 24 villages in Pu Luong Nature Reserve. Most of the villages here still retain the simple, rustic features of the Thai people, only a few are affected by tourism.
Don village is the most developed and can be considered the main point of Pu Luong Nature Reserve. Besides, some villages such as Kho Muong village, Bang village and Hieu village are also favorite destinations for tourists when choosing attractions. Coming here, visitors can visit Thai stilt houses, enjoy local cuisine with a taste of mountains, forests and admire the wonderful, poetic natural scenery of Pu Luong.
Must see: https://puluongexcursions.com/pu-luong-nature-reserve/
Immerse yourself in nature
Son – Ba – Muoi are 3 villages in the highlands of Lung Cao commune, Ba Thuoc district, Thanh Hoa province, where the ethnic minorities live and reside (mainly Thai). It is the only place which has a low limestone mountain ecosystem in Northern Vietnam with thousands of years old primeval forests.
At 1180 m high above sea level, Son – Ba – Muoi is surrounded by rugged mountain ranges and runs parallel to the pristine Pu Luong Nature Reserve. The three villages of Son, Ba, and Muoi still retain their pristine features and are often compared to a "Mini Sapa" of Thanh Hoa, where you can be completely immersed in nature, letting your soul go with the wind.
Join a craft workshop
Handicrafts in Pu Luong are mainly made to serve local people, not for business. Pu Luong's tourism services have not developed as much as Mai Chau or Sapa, so there will be few shopping spots for tourists who want to buy souvenirs. However, visitors can directly participate in craft workshops to make hats, Pieu scarves, etc. With the dedicated guidance of highland women, this will definitely be a memorable experience for visitors.
Dine on farm-to-table home cooking        
Visitors to Pu Luong can enjoy excellent on-farm-to-table home cooking, which means that the ingredients here are all raised, grown, and caught naturally by local people. For example, Co Lung Duck is raised on streams, naturally foraging in water flowing from rocky mountains, so the meat has a delicious taste that is famous near and far. The caught fish is cleaned and marinated with spices, usually with ingredients available in the mountains such as: mac Khen, wild herbs, chili, lemongrass.
Home cooking in Pu Luong
Coming to Pu Luong, visitors can not only immerse themselves in the peaceful life of the people here but also have the opportunity to enjoy the famous and unique dishes of this place. The delicious dishes at Pu Luong are influenced by the cooking culture of the Thai people with typical spices of the mountains.
Some famous dishes in Pu Luong must be mentioned are hill chicken, grilled stream duck, mountain snails, bitter bamboo shoots, lam rice, etc. Guests can enjoy specialties at the resort's restaurant or homestay. In particular, some places also have a Cooking Class to increase the experience for tourists who are passionate about cooking and want to improve their cooking skills.
Trek to the top of Pu Luong mountain 
Pu Luong peak has an altitude of about 1700m, is considered as one of the ideal trekking routes for those who are passionate about nature and exploring in Vietnam. To conquer Pu Luong peak, it will take you about 6-8 hours in good weather and physical conditions.
When you arrive at the top, you will definitely be completely overwhelmed and impressed by the scenery of the mountains and forests combined with the majestic fields. The mountain creates a wonderful beauty that captivates anyone who comes here. In particular, you can also camping on the top to eat, rest at the night and then go down the mountain in the next day.
Enjoy an authentic homestay
For the perfect trip to Pu Luong, a perfect place to stay is indispensable. In Pu Luong, there are many homestays in the villages in Pu Luong nature reserve for you to choose from. Homestay here is designed in a natural style, mainly wood and decorated quite simply according to the Thai stilt house architecture. It will give you the most authentic experience of the daily life of indigenous people.
In addition, after a long day out, you can lie down on the bed or soak in the bathtub and gaze at the beautiful nature of Pu Luong through the window of the homestay.
Transport to Pu Luong
In Pu Luong, the most flexible means of transportation is motorbikes. The topographic characteristics in Pu Luong are small roads and a bit rough, steep, so traveling by car will be much limited. The air in Pu Luong is quite cool, sometimes with warm rays of sunshine. Experiencing riding a motorbike around the valley, comfortably stopping to check in when seeing the beautiful scenery gives visitors a relaxed and happy mood during the trip.
If you are not confident in driving at Pu Luong, you can hire a driver. This is a team of local people who know the way well, and are provided by the local government to earn extra income. Local people will definitely be dedicated and attentive guides on your roads.
Hope the above experiences will help you have a great trip to Pu Luong. If you have any questions, please contact Pu Luong Excursion, we are always here to support you.