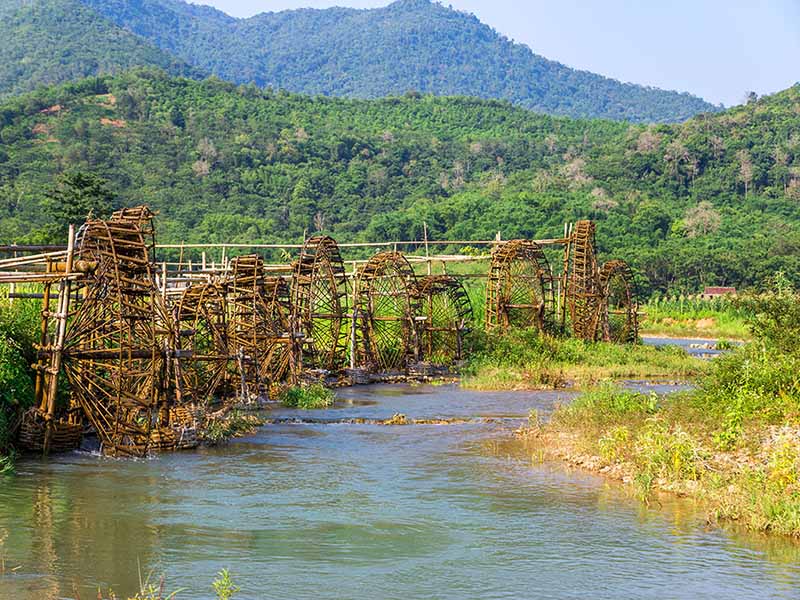 This excursion will take you to the peaceful and untouched Pu Luong Nature Reserve (Pù Luông in Vietnamese). The greatest approach to explore the local environment and culture is through walking. You may relax by walking over terraced fields that offer countless photo opportunities. It is a wonderful experience to travel by bicycle through stunning remote hamlets in Pu Luong that are surrounded by tropical woods and to interact with Thai ethnic people.
First day of Pu Luong tour
You will be picked up at your hotel in the Hanoi Old Quarter around 7:00 AM and start going to Pu Luong Nature Reserve. The trip normally takes about 4.5 hours. You will have a short break in the middle of the road for resting and watching around.
Reach Pu Luong before noon and have lunch, then you will check in the hotel following your reserved room. It is time for you to wander around and enjoy the atmosphere around.
In the afternoon, we will have a Pu Luong trek of 4.5km. First, you will be moved to Ban Cong village. Walk through a wooden bridge to one of the most beautiful villages in Pu Luong where the largest stream flows, go along the stream, you will see the magnificent landscape, rice fields and village life. Halt to see the masterpiece created by mountainous ethnic minorities: the giant water wheel.
Second day of Pu Luong 2 day 1 night tour
Breakfast will be served from 6:00. A secret tip for you is to wake up early and enjoy the landscape and breathe in the refreshing mountain air. You will have a great moment for sure. The tour will start by 8AM.
Walk down the valley to reach Don village – the epicenter of Pu Luong. The easy road through the vast terraced fields will get you excited. The stunning ambiance slowly appears before your eyes. Keep going and you will find a small path to Uoi hamlet. Looking down from high, you will see the hamlet lies humble [A3] at the foot of the grand mountain. We are sure that the landscape will captivate you.
Continue walking down to the local houses, and you will take about 40 minutes by bike (if you interested in Pu Luong motorbike tour, click here Pu Luong motorbike tour) at Lan village, which is dubbed the "Kingdom of Thai people in Pu Luong" with 100 households. Go sightseeing around the village, cross the paddy fields, contemplate farm land, cool streams, ducks paddling in meres, and get to know the locals there.
Fish your trek at your hotel by 11AM and do the check-out process. After that, you are free on your own. If you would like to book your lunch, contact your tour guide or wander around till the time of the bus going back to Hanoi.
WHERE TO GO DURING THE PU LUONG 2 DAY 1 NIGHT TOUR
Don village, Pu Luong Thanh Hoa
Don village is known as the epicenter of Pu Luong. This is one of the most developed villages in this area. This location involves many attractions fascinating you, from the paddy fields at the bottom to the top of the mountain range. You can easily find overnight accommodation, from ethnic homestays to good standard hotels.
Lan village, a remote village of Pu Luong
This village is called "Kingdom of Thai people in Puluong". This is one of the isolated villages in Pu Luong Nature Reserve so the habits and customs still keep with the original. Riding a bike around the village for sightseeing and having fun playing football with the children. Wild and naive.
Pu Luong peak
As the local language, Pu Luong means "The highest peak in the area". This peak could reach 1700m. As not as grandiose high as mountain ranges in the north of Vietnam like Lao Cai, Ha Giang or Lai Chau, this scale in Pu Luong is more suitable for a large group to access there.
WHERE TO EAT IN THE PU LUONG TOUR
When you come to Pu Luong, you must try the traditional dishes: Bitter leaf soup, mountain snail, hill chicken, Ruou Can, etc. Here are some trustful address offering these dishes:
Pu Luong Retreat, Vietnam
Only 160 kilometers—or a four-hour drive—from Hanoi, Puluong Retreat offers a welcome respite from the crowd while being tucked away on a hillside with the most breathtaking panoramic views in the region. Pu Luong is a true picture of Northern Vietnam, with its spectacular mountain ranges, stunning rice paddies, beautiful rivers and waterfalls, breathtaking mountain routes, and lonely traditional villages. Pu Luong Retreat offers 24 comfortable bungalows, 1 traditional stilt house with 15 comfortable beds, an outdoor dining area with great food, an infinity pool, a spa area, and a rock garden allowing you to explore the retreat's hidden details that were carefully constructed by hand from the ground up.
Pu Luong Specialty Restaurant
This is the first restaurant in Pu Luong that specializes in providing dishes with culinary flavors of the Black Thai people, local foods, and local spices. Local, simple processes that are independent of spices have won travelers' hearts.
Besides, tourists can experience the food in homestay in Pu Luong, and the local people here will directly cook for you. It will be an interesting experience if you love to try unusual ways of cooking.
Pu Luong trips, Pu Luong tour plan, Pu Luong Thanh Hoa, Pu Luong retreat 
See more: