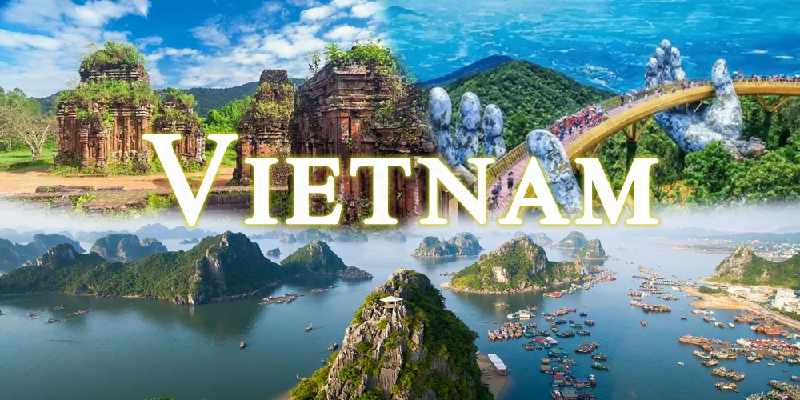 THE GOOD REASONS TO COME TO VIETNAM ? Vietnam is a remarkable country that touches the hearts and spirits of everyone who travels there, making them wish they had more time to explore and learn more about its distinctive culture. Vietnam is the place for you if you want to explore a nation through its cuisine, search for the best beaches, or go off the main path.
It's the ideal time to travel to Vietnam because accessibility is constantly improving, partly due to the rise of English speakers. It is still off most people's radars, yet it has been traveled just enough for you to construct the trip of your dreams and feel like you know what to do and what to avoid. Come today to avoid the crowds of visitors and discover Vietnam as it truly is. Let's find out the good reasons why Vietnam should be on the list for your upcoming vacation below.
BREATHTAKING LANDSCAPE
The Grand Canyons, Sydney Opera House, and Niagara Falls are unmatched. Vietnam, however, is a genuine hidden gem that can only be discovered by travelers there. To express it more accurately, Vietnam is home to a number of World Heritage Sites, including Cham Islands, Hoi An Ancient City, Phong Nha Ke Bang Caves, and Halong Bay.
You will be even more surprised by the non-heritage site's bits and pieces, though. For instance, Da Lat is too lovely to pass up. You get the impression that you are in Europe when you see French-style villas close to a pine forest and strawberry gardens, but the market scenes tell a different story. The Keo Pagoda in Thai Binh province is another excellent example of Vietnam's unassuming beauty. It offers the peace of a sacred site while being surrounded by lush paddy fields. You won't be let down whether it's a must-see location or an off-the-beaten-path attraction.
FRIENDLY AND HOSPITABLE VIETNAMESE
Although the language barrier can initially seem overwhelming, you will find that communication is much simpler than you had anticipated once you go outside of your comfort zone. This is due to the fact that the locals make a sincere effort to comprehend you and are adept at communicating through body language.
The people in the area are more than happy to assist you and will do it with a smile, even if you are feeling overwhelmed by the unfamiliar culture, language, and surroundings.
Some locals have even been known to guide lost tourists to their intended destination to make sure they arrive there safely.
The majority of tourists who provide comments on their travels express their strong impression of the warmth and hospitality of Vietnamese people. Travelers say that Vietnam's people are a truly priceless treasure. Whether or not you know them, the locals from North to South extend a warm welcome to you. Even if it is your first time visiting their home with a local guide, ethnic minority people in Sapa in particular usually regard you as a friend. Hue residents have a royal demeanor but are friendly, whereas Hoi An residents are renowned for their integrity. The Mekong Delta's local farmers always smile warmly as they welcome you inside their homes.
See more: Pu Luong Nature Reserve
AFFORDABILITY
If you visit Vietnam, there is almost a place for every budget. Vietnam is a popular choice for vacationers on a budget. In most cities, there are numerous hostels and guest rooms with rates under 30 US dollars per room per night. And even upscale adventure visitors frequently appreciate sampling the native street food, which is delectable and more affordable than in many other nations. Vietnam is still a more reasonable travel destination than many other countries, despite the fact that it has high inflation and that costs are rising on a monthly basis.
COFFEE
The second-largest coffee exporter in the world is Vietnam. When you consider that the majority of the bordering nations drink more tea than coffee, that is saying a lot.
Vietnam may provide either its more well-known specialty iced coffee (coffee with condensed milk; it sounds too wonderful to be true, and it is) or the traditional black coffee. Furthermore, coconut milk, egg yolk, and even yogurt can be used to make coffee.
With coffee shops on nearly every street and cafés to suit every taste, Vietnam is a coffee lover's paradise. These are fantastic locations to meet locals or tourists. Otherwise, unwind and recharge while giving your feet a break from all the walking.
A NOWHERE-TO-BE-FOUND TRAVEL EXPERIENCE
All of the off-the-beaten-path experiences you are all yearning for may be found in Vietnam. You name it: staying with an ethnic family in Sa Pa's northern highland region, photographing the sunrise in Hoi An, playing in the sand with native youngsters in Mui Ne. A really unique travel experience is all about you, and Vietnam is the best because there is still so much to learn about this country.
TASTY AND EXQUISITE CUISINE
Since it is the best, foodies from all over the world seek out real Vietnamese cuisine. It's always wholesome, delicious, and fresh. The food is divine whether you are eating at a food stand or a restaurant.
The daily mainstays that you must try are seafood, spring rolls, banh mi (Vietnamese baguette), sticky rice, and pho noodle soup. Fresh seafood dinners for two range from $8 to $20, so the cuisine is affordable for both your taste buds and your wallet (on average).
Such seafood meals are available at restaurants, or if you're feeling very bold, you may have them prepared in front of you while watching the sunset on a beach.
Due to its geographical setting, Vietnam is a great place to indulge in some of the best fruit available. It can provide you access to certain traditional fruits like watermelon, pineapple, bananas, and mangos, as well as introducing you to some novel flavors like lychee, durian, and mangosteen.
NATURAL BEAUTY: BEACHES AND MOUNTAINS
With 3,000 kilometers of untouched tropical coastline, Vietnam is blessed with some of the best beaches in the world. Fortunately, unlike Thailand or the Philippines, most of its beaches are not overrun with tourists, although we advise visiting before word spreads.
These mountains are out of this planet. These karst mountains, which run from the east to the west coast and rise from the sea, must be seen in person to be truly appreciated. Many hikers will spend their entire journey on the narrow roads and difficult routes that lead to these peaks.
Simply put, Vietnam has unmatched natural beauty. There are a few World Heritage Sites there, including Cham Islands, Hoi An Ancient Street, Phong Nha Ke Bang Caves, and Halong Bay.
Even if you are unable to visit all of Vietnam's World Heritage Sites, some of the scenery and perspectives can be found in even the most ordinary locations and are worth viewing.
TRADITIONAL FESTIVALS
Vietnam has festivals planned throughout the year, many of which are unknown in the West and are quite interesting to learn about. This is due to its lengthy history, rich culture, and Buddhist influence. For instance, the Tet festival is a great opportunity to observe how families honor their love for one another and their ancestors. It is important to distinguish Tet from Lunar New Year, which some nationalists may find offensive. It shares many similarities with the Lunar New Year but has been altered to have a Vietnamese flavor. For instance, in the country, people spend the night and prepare chung cake over a small fire while exchanging end-of-year rumors. A well-known event in Hai Phong is the buffalo battle festival, where the victorious buffalo is slain and offered to the local deity. Even public holidays in Vietnam are worthwhile to participate in; if you visit on September 2nd, you will find parades taking place all around the country. The red flags will light up the entire street, and at night, fireworks will fill the sky.