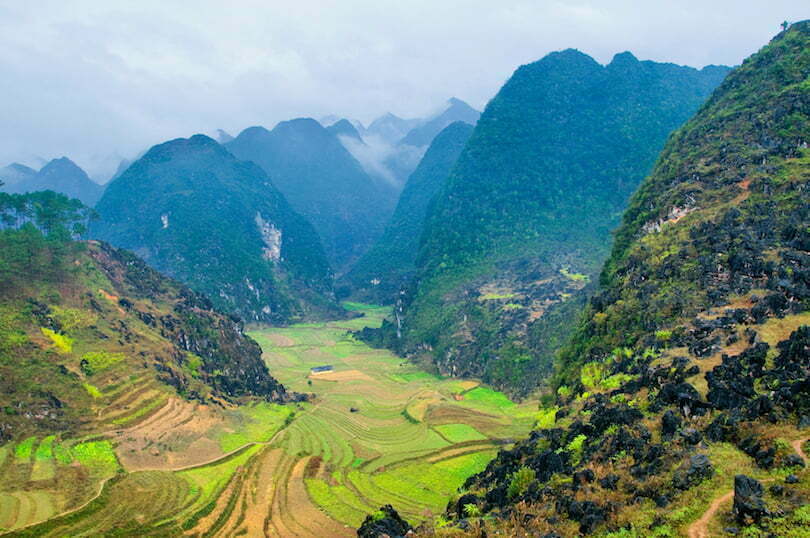 Tourist destinations in Vietnam are very rich and diverse, especially in the North. There are many tourist attractions here that we should visit once in a lifetime. Today, we will explore 9 tourist destinations in the North VietNam!
Halong Bay
It is not an exaggeration to say that Ha Long is the most attractive one-day Northern tourist destination. In just one short day, you can visit many beautiful scenes, enjoy many typical dishes of the mining land.
First, visitors should take a boat to explore the cave system, famous islands in Ha Long Bay such as: Ti Top island, Dinh Huong island, Ga Choi island, Soi Sim island, Trong Mai island, etc, associated with its own legends, attracting every step of visitors.
Tam Coc – A beautiful attraction in Ninh Binh
Tam Coc Bich Dong tourist area, also known by famous names such as "Ha Long Bay on land" or "Nam Thien De Nhi Dong" is a famous tourist area of Ninh Binh. The whole area includes a system of limestone caves and historical sites related to Vu Lam palace of the Tran dynasty located mainly in Ninh Hai commune, Hoa Lu. Trang An – Tam Coc landscape complex is classified as a special national relic and has been ranked as a world heritage by UNESCO.
Dong Văn, Ha Giang – Breathtaking mountains
Dong Van Ha Giang has located 160 km from Ha Giang city. This is one of the special limestone areas formed by environmental conditions and the development stage of hundreds of millions of years.
Dong Van Ha Giang is a place to keep the ancient features from afar, in addition, it also shows the bold culture of the highland people, the most typical cuisine here.
In addition, there is an old town and an old market with architecture hundreds of years old. If you have not had the opportunity to come here, please visit, the ancient beauty will make you surprised and admired.
Bac Ha Market – The largest ethnic market
Taking place from 8 a.m. to 5 p.m. on weekends, Bac Ha market is the largest market in the Bac Ha district and one of the major markets of the northern mountainous provinces. The market is located right in the center of town. Here, visitors can enjoy specialties only in the highlands such as red pho, thang co, and corn wine; buy local agricultural products such as mustard greens, dong quai, yellow turmeric and other precious medicinal herbs or experience some production and daily activities of the Tay, Hoa Mong, and Phu La ethnic groups. After going to the market, visitors can visit Hoang A Tuong palace not far away and learn about the history of formation and development of Bac Ha district.
Cat Ba Island – the wonderland of nature
If you are looking for cheap tourist destinations in the North, Cat Ba will definitely be the name on the list. Although it is a resort that has been exploited for a long time, Cat Ba still retains its wild character. Visitors will be able to set foot on long, smooth white sand beaches. Immersed in the cool blue water, listening to the murmur of the waves will be an interesting experience for your trip.
Located only about 60 km from Hai Phong city, Cat Ba is an address chosen by many tourists to travel on weekends. This area is not too large, suitable for a 1-day travel itinerary. In addition, this is also a popular tourist destination in the North for 2 days and 1 night.
Lac village – Land of charm in Mai Chau
Lac village Mai Chau is a famous tourist destination of Hoa Binh land located in Mai Chau Hoa Binh valley, where the climate is extremely cool and fresh. Not only that, Mai Chau land is also the cradle of Thai ethnic culture, coming here visitors can feel the fresh atmosphere of nature as well as discover the traditional cultural beauty of the Thai people. as well as tourists in the land of Hoa Binh.
The old quarters of Hanoi
The most ideal one-day Northern tourist destination for those who love to explore is Hanoi's thousand years of civilization. Hanoi's capital has its own characteristics, completely different from other cities. And it is this difference that makes Hanoi always on the list of must-visit places for tourists.
Visiting Hanoi's 36 streets, you will feel all levels of emotions. From the hustle and bustle of the bustling streets to the peace of the capital. You will also discover the diverse cuisine in the old town, and visit famous landmarks such as Uncle Ho's Mausoleum, Ngoc Son Temple, The Huc Bridge, Long Bien Bridge, One Pillar Pagoda…
Cao Bang- Ban Gioc Waterfall
The waterfall is the intersection between the border of Vietnam and China, so it attracts a lot of tourists from both countries. Being favored by nature, the waterfall has a wonderful beauty.
Combined with the majestic nature is an extremely fresh air and a very peaceful space. The sound of the waterfall flowing creates a music in the middle of the vast and vast mountains.
If you have a chance, come here once to feel the beauty of this beautiful waterfall
Pu Luong Nature Reserve
Pu Luong Nature Reserve was established in 1999, with an area of 17,662 ha, including 13,320 ha of strict protection zone and 4,343 ha of ecological restoration zone. It is 25 km from Cuc Phuong National Park, connected to the tail of Cuc Phuong National Park by two parallel gray limestone mountains. In the middle are the rice valleys. Pu Luong, Thanh Hoa is a famous attraction and discovery in the village of backpackers, self-sufficient backpackers, cheap mountain resorts, but most of the tourists coming here are strongly impressed with the scenery and wild beauty. The pristine beauty of Pu Luong, especially the terraced rice fields and primeval forests. With many beautiful features, unspoiled landscapes, hidden in the mist like a hanging garden in different locations such as: Son Ba Muoi point. (Lung Cao commune), Pu Luong peak, Kho Muong, Don Village with Pu Luong Retreat resort, Uoi village, Tien Moi village, Hieu waterfall area, Co Lung commune, … have been attracting hundreds of thousands of domestic visitors and international lovers of trekking (a form of travel to discover by walking), backpacking to visit, experience and relax.
To get more interesting information about Pu Luong, click here.